It took roughly fifty days for the financial markets to swing from a mood of utter despair and depression to one of unbridled hope, bordering euphoria. It's probably one of the quickest volte-faces of human sentiment and psychology on display in the two and half decades of our investing careers.
The narrative has changed dramatically – from one of treading out of the COVID-19 morass gingerly into a whole new uncertain world, replaced by unabashed bravado and fearlessness of the future. A future that every world leader, central banker and corporate honcho has proclaimed to be too uncertain and treacherous and where they can barely see beyond the bridge of their noses. And yet, the denizens of financial markets suggest that they seem to know better than all these constituents. There is barely a company we have come across in any geography that has guided to their earnings for the year. Analysts have tortured every numerical field in their spreadsheets to second-guess what might turn up in the form of earnings and traced their own glide-paths knowing well they could be right or wrong in equal measure.
One thing that everybody seems to believe, and rightly so, is that the coming financial year ending December 2020/ March 2021, is going to be a 'wash-out' one where earnings are indeterminate and unforecastable. Hence, analysts and investors have turned their attention to December 2021/ March 2022 as the 'normal' year, where earnings are expected to recover to the December 2019/ March 2020 levels, or almost. This is what is termed as the clichéd 'V' shaped recovery. The financial markets have therefore set about to begin pricing in these earnings nearly 18-24 months out today, without even a gentle nudge of approval from corporates.
This has befuddled many a financial guru on Wall Street and elsewhere, most of whom are convinced that this is perhaps the most-mispriced and risky market set-up they have seen in their illustrious careers. But the markets won't have any of that. For now, at least.
How durable is this market recovery? We know that poor economy does not necessarily equal to a poor market performance. It is possible though to explain some of the market's current exuberance:
The positioning back in March, going into the rally, was super defensive. Money had moved to the side lines into cash – money market funds mostly.
Over the weeks, the market's focus has quickly shifted from tracking the incidence of new cases (which have likely peaked in most countries) to the schedule of re-opening of the economies, followed by tracking high volume data on how countries and people were getting on with their lives.
The fact of several companies working frenetically on vaccines has lit hope that one will be available by the end of the current year or early next year and that this would end most of the world's woes soon after. That hope lingers on.
OPEC and non-OPEC countries rustled up an agreement to cut crude oil production. Oil prices have since rebounded hard, causing oil equities to soar.
But mostly and substantially, it has been about how the world's large central banks have behaved. The central banks' unprecedented liquidity injection, the scale of which the world has never before witnessed, has swamped the markets and brushed aside every trace of fear or caution that existed in March. The ensuing surge in stock prices has triggered frenetic, even forced, buying where the market participants have all coalesced to believe that 'the Fed had their back'. Soon enough the naysayers, overwhelmed by the FOMO feeling, have now jumped into the arena. If you can't fight 'em, join 'em!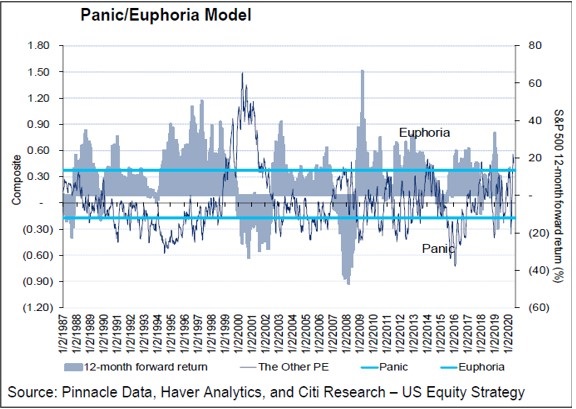 Euphoria readings have never been higher since 2000-2001 at the peak of the tech bubble. This has naturally brought the question back to everyone's mind – are we creating a bubble? The good news thus far is that the consensus valuations for the S&P500 suggest that while clearly high, they are not stretched to levels that suggest that it is a bubble yet. The chart below shows a scary situation where small option traders – those selling 10 or fewer options per order – are buying truckloads of bullish options. These option traders just set the record this month of net open bullish option positions that beat the recent February 2020 high, which itself was the highest volume seen in twenty years!
While the U.S. markets get all the headlines, the rally in ASEAN too has been fuelled by not dissimilar factors. Retail participation in ASEAN equities has increased dramatically in 2020 and especially so since mid-March. This increase in participation is outside of normal limits and we believe is likely to be distorting markets.
For example, Thai local investors have been net purchasers of THB 100bn in equities in the past 90 days, equivalent to 0.7% of the current SET market cap, and the highest net inflows seen since 2004. A similar story is visible in Malaysia (MYR 4bn) and Singapore (SGD 3.5bn).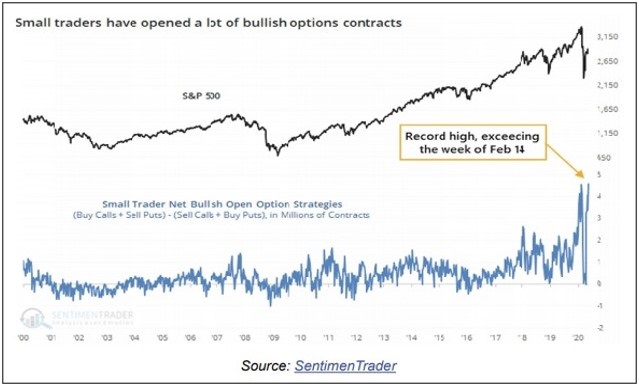 We get to the point now where we pose the big question – what could go wrong from here for markets? The catalysts most likely will come from one or more of the following spoilsports to the rally.
The Fed is walking a tightrope of leading the U.S. economy out of the recession. Its most potent tool is to provide copious liquidity, create a wealth effect and allow the passage of time for the economy to heal and recover and for unemployment to climb back to normal levels. Until it achieves that goal, its comments make it crystal clear that it will not stop printing more money. The problem is that Fed speak can easily change where they could take the foot off the pedal and the markets may not like that. Until that time arrives, it would be safe to assume that the market will ride on the coattails of the Fed.
A second wave of COVID-19 cases in key economies of the world has the potential to derail the tenuous financial market stability nursed in the past two months. This is a big enough issue to spook the markets for some time a drive a much need correction, if not another crash.
U.S. politics are likely to become an important factor as we get closer to November. Biden leads Trump by c.8ppts. A Biden win comes with a plausibly negative tax policy and regulatory implications and may not be perceived well for the health of the rally.
President Trump's trade fights with China have the potential of rearing up yet again. So far, the President has stopped short of delivering the knock-out punch on issues related to China and Hong Kong. These have the potential of going beyond rhetoric and actually creating an accident of sorts which we can only hypothesise today. Such possible actions by a mercurial administration could give the markets something to think about.
Consumption data could slump in the months ahead as the real deleterious effects of the lockdown and unemployment begin to feed through to the real economy. This could become more apparent once unemployed workers stop getting their $600 weekly supplemental benefits (starting August 1). How the market will take weak economic data when it arrives, when it is perched this high, poses risks as well.
All of the above have the potential to puncture this rally and drive a correction that the market arguably needs to let some steam off. Given how far the markets have come off the March lows, such a correction is likely to be at least worth 10% being taken off the highs and perhaps even protract in time. This would allow markets to cool off, give investors time to weigh and reassess the path of the recovery while keeping the faith in the eventual arrival of a vaccine.
While a correction is awaited, it is possible that this free-flowing liquidity can continue to inflate stock prices further as investor euphoria reaches a crescendo in the weeks ahead. The risks are apparent and hence it is crucial to keep a close watch on high flow data, earnings and valuations, cross-asset linkages and the manifestations, all of which will eventually impact how far the stock markets will run.
Different economies in Asia are in different stages of re-opening and their recoveries could be erratic, uneven in time and hence their stock markets' behaviour and performance would also be non-synchronous with the region and the developed world. The flush of liquidity coming out of the developed economies is likely to spill over into Emerging Markets before long. The recent breakdown of the U.S. Dollar against a raft of global currencies including EM currencies is a huge tailwind for the latter's stock markets. These are not insignificant developments to be trifled with.
We are also mindful that, though EM and Asian earnings growth has serially disappointed in the last many years, there have been liquidity-driven rallies punctuating this period. The global liquidity outpouring could trigger yet another rally in these markets. Such considerations keep us alive to risks of boxing ourselves with strident views of markets while unprecedented monetary policies are being conducted in the world. Market timing would be a bane at such times. Stock and market selection gain importance as much as sticking to our process. The investment landscape in Asia ex-Japan is not lacking in stocks that have yet to recover completely and which do not price in a normalised state of their earnings.
Companies which are domestically focussed and/or consumption driven are likely to recover earlier as countries begin to get back to work and businesses open up. Those which are dependent on global growth to recover are likely to take much longer as damaged or broken global supply chains will take longer to fix and demand may yet be an issue. Our attention is more directed towards the former right now, just as much as we keep a close watch on the fast-moving narratives on Wall Street and elsewhere across the world.
Disclaimer
This material is not intended as an offer or solicitation for the purchase or sale of any financial instrument. Information has been obtained from sources believed to be reliable. However, neither its accuracy and completeness, nor the opinions based thereon are guaranteed. Opinions and estimates constitute our judgement as of the date of this material and are subject to change without notice. Past performance is not indicative of future results. This information is directed at accredited investors and institutional investors only.